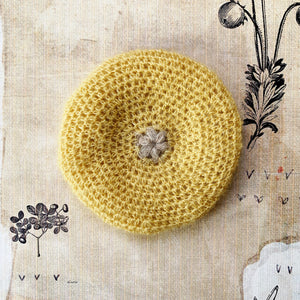 This light as a feather cloud of a beret is crocheted in gorgeous mohair alpaca mix yarn, with a little sakura flower in the centre.
It would float away on a breath of wind it is so soft. Each one is completely crocheted by hand. The colour of this one is a lovely pale blue yarn. Fits Blythe heads and also Qbaby. 
Moshi-moshi dolly couture, hand-made by Hilary and some helpful elves in a garden shed in the wilds of Cornwall. We use the loveliest fabrics and trimmings we can find, antique lace and vintage scraps. They are made for Blythe dolls specifically but will also fit Licca dolls and Pullip, as well as similar 1/6 scale sized dolls.